CBSE Syllabus 2023-24 for Class 10: The CBSE Class 10 Syllabus for the new academic session is out on the board's official website, cbse.gov.in. Download the subject-wise PDFs of latest syllabus from this article.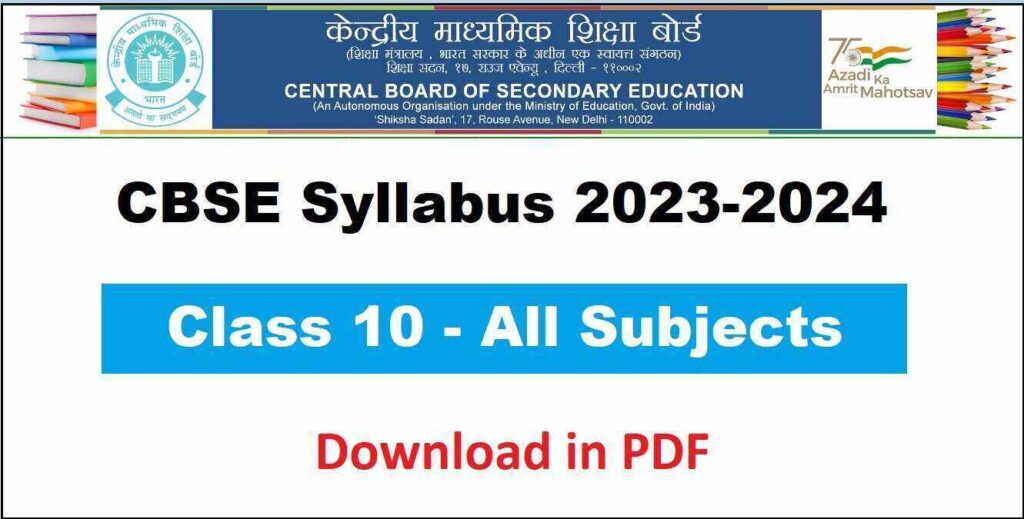 CBSE Class 10 Syllabus 2023-2024: CBSE Class 10 students can check the new curriculum prescribed by the Central Board of Secondary Education (CBSE) here for the current academic session 2023-24. The new CBSE syllabus is instrumental to students not only to perform well in board exams but also helps them excel in all spheres of academics.
We have provided below the subject-wise PDFs of CBSE Class 10 Syllabus 2023-24. This syllabus includes the course structure, unit-wise marks distribution and number of periods allocated for each unit in a subject. Additionally, CBSE Class 10 Syllabus also provides information about the exam pattern, question paper design, projects, assignments and practicals to be conducted throughout the year. Therefore, students must go through the latest CBSE syllabus and plan their studies accordingly for excellent performance in exams. They can also check links to get access to some of the very important study resources to help them cover their syllabus in the most effective manner.
CBSE Class 10 Syllabus 2023-24 (All Subjects)
Download CBSE Class 10 Syllabus 2023-2024 of All Subjects from the links mentioned below:
How is CBSE Cass 10 Syllabus Important?
CBSE syllabus is an all inclusive guide for the course structure and course curriculum offered in an academic session. CBSE Class 10 Syllabus 2023-24 has all elements necessary to understand the type and volume of contents prescribed by the board. With the help of CBSE syllabus, it would be easy for students to know the chapter-wise topics to be covered throughout the year. In addition to this, the unit-wise weightage distribution prescribed in the syllabus will give them an idea of the important parts of the syllabus that must be covered with extra attention and focus. 
Salient Features of the CBSE Syllabus 2023-24
The CBSE Secondary Curriculum aims at:
providing ample scope for holistic i.e., physical, intellectual and social development of students.
emphasising constructivist rather than rote learning by highlighting the importance of hands-on experience.
encouraging the application of knowledge and skills in real-life problem-solving scenarios.
upholding the 'Constitutional Values' by encouraging values-based learning activities.
promoting 21st Century Skills, Financial Literacy, Digital Literacy, Health and Wellness, Road Safety, and other important life skills.
promoting inclusive practices as an overriding consideration in all educational activities;
enhancing and supporting learning by different types of assessments; and
fostering multilingual and multicultural learning and national understanding in an interdependent society.